Rural Reflections, Sunday, August 1, 2004
(Weekend supplement of the North Battleford News-Optimist-Telegraph)
100 years on Orchard farm
by Lorraine Olinyk
Photos also by Lorraine Olinyk
A celebration of 100 years on the John Orchard family farm was held at the farm, home of grandson David Orchard, 12 miles NE of Borden, in the Halcyonia District in July.
About 120 arrived for the afternoon and a supper catered to by the United Church. As David is an organic farmer, much of the meal was organic -- bison burgers, smokies, new potatoes, tossed salad, lemonade and strawberry shortcake with saskatoons and blueberries for dessert.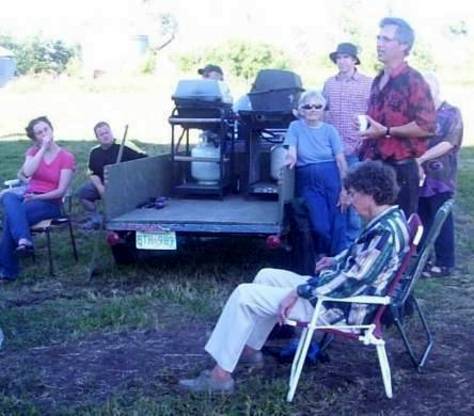 David thanked everyone for coming and recognized some special guests from British Columbia, Ontario and Quebec, various points in Saskatchewan. He thanked the members of the United Church for the great meal, and all those who helped clean the yard and the barn.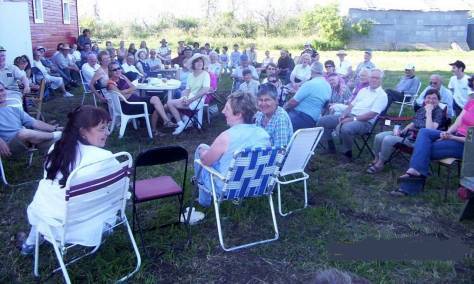 Documents pertaining to the settling of his grandparents in 1904 were on display, and David will be receiving a century plaque shortly. He gave a history of the buildings in the yard, dating from the log cabin constructed in 1905, barn and implement shed built in 1912, loft added in 1937, and the present house in 1918. The barn was restored and painted 10 years ago. Many toured the barn and house and the meal was enjoyed in the lean-to of the barn or in the shade.
---