The Canadian Alliance-PC Party Merger
Articles and documents about the merger
Legal documents
The agreement signed by Peter MacKay and David Orchard formed the basis for Orchard's final-ballot support for MacKay at the PC Party Leadership Convention, May 31, 2003.
Click here for larger pictures and the full written text.
Moncton Times and Transcript, June 06, 2003
N.B. Senator Brokers Tory Pact
Noel Kinsella helped orchestrate controversial deal which gave PC leadership to Peter MacKay.
By Campbell Morrison
OTTAWA. New Brunswick Progressive Conservative Senator Noel Kinsella brokered the controversial deal between Tory leadership candidates Peter MacKay and David Orchard that secured MacKay's victory...continued

November 21, 2003, Ottawa (2:35 minute video)
Watch David Orchard explain his convention agreement with Peter MacKay
(excerpted from the November 21st Press Conference.)

Montreal Gazette, Friday, June 06, 2003
"What's most troubling about the MacKay-Orchard Magna Carta?"
By Aislin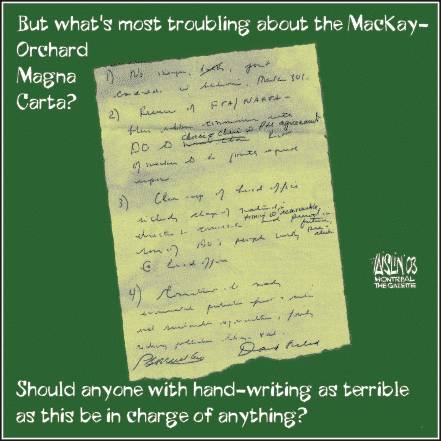 Audio and Video clips...
May 13, 2003 - (Ottawa) Don Newman hosted a PC Leadership Debate on CBC Newsworld's Politics show. Participating candidates included Scott Brison, Peter MacKay, David Orchard and Jim Prentice...VIDEO
January 21, 2003 - (Ottawa) Following David's announcement of his candidacy for the Leadership of the Progressive Conservative Party, Don Newman of CBC Newsworld's Politics interviewed him about his vision for Canada... VIDEO
Media Coverage
Western Producer, 21 August, 2003
Orchard hopes to reverse recent PC policies
by Barry Wilson
OTTAWA BUREAU- The Progressive Conservative party must raise the profile of agricultural issues in Canadian politics and re-orient policy to support farmers in the domestic market, says the Saskatchewan farmer who ended up as kingmaker during the last PC leadership convention....continued

National Post, 21 August, 2003
Saskatchewan farmer speaks out about controversial backroom deal with Conservative leader
MacKay talks"ongoing," Orchard says. Alliance party concerned.
by Bill Curry
OTTAWA - In his first interview since striking a controversial backroom deal with Peter MacKay, David Orchard said yesterday he has been in weekly contact with the new Conservative leader since the May convention and he expects the party to follow through with running candidates in all 301 federal ridings...continued

FINANCIAL POST, 18 June, 2003
Orchard knows how power ticks
by Michael Stern
In business, as in politics and other walks of life, there are two kinds of power. There is the official clout that flows from your office or rank, and the greater power that comes from the respect and influence you wield as a person. Power is really about strategy: understanding how much power you have in a given situation, and knowing when to use it...continued

Maclean's, 16 June, 2003
Troublesome Tories
by Rick Salutin
I TRIED TO EXPERIENCE the recent Tory leadership convention with Dalton Camp, as it were, on my shoulder. Dalton, who died in 2002 at 81, embodied the history and conscience of the party, which created Canada and built many of its institutions. He ran endless campaigns, including the victories and defeats of John Diefenbaker, then engineered Dief's ouster, for the party's sake, knowing he'd never shake a rap for disloyalty. His was the party of Robert Stanfield and Joe Clark; it created what became the CBC in the 1930s and beat back free trade in 1911 -- though he also worked in Brian Mulroney's free-trade government of the 1980s. By then he was a superb journalist; he had given words so often to others that his own writing had the feel of a jailbreak. He had no use for the neo-cons who took over the Progressive Conservative party lately, nor they for him...continued

Toronto Star (Metro), 15 June, 2003
Davis scores one for Red Tories
by Linda McQuaig
I have long assumed that the unite-the-right movement was pretty much finished in Canada - ever since its leading advocate and spiritual leader, David Frum, took a high-level job in the Bush administration.
Some political movements would find it awkward, if not downright embarrassing, to have their spiritual leader in the pay of a foreign government. Not, apparently, the unite-the-righters, many of whom seem like they'd be more at home in U.S. Republican circles- which helps explain why they often appear to be ducks out of water here in Canada...continued

Globe and Mail, June 12, 2003
NAFTA lets the gas out of Canada
by Eric Reguly
Free trade is back in the news and the news isn't all cheery for those who consider NAFTA Western civilization's crowning achievement. David Orchard distinguished himself at the Tory leadership convention with his unToryish stance, notably his call for a NAFTA review. Free trade doesn't mean protectionism, he said, referring to the punitive U.S. tariffs and duties on Canadian softwood lumber and wheat...continued

Winnipeg Free Press, June 11, 2003
Orchard brings Tories back to roots
By Frances Russell
"A deal with the devil", fumed Calgary Alliance MP Jason Kenney. "Coalition with the socialists", declared Alliance leader Stephen Harper. And Tom d'Aquino, president of the Canadian Council of Chief Executives, borrowed a phrase from the U.S. military hype for the Iraq War. "It's not shock and awe. It's shock and horror."...continued

Winnipeg Free Press, June 11, 2003
What's the big deal about big deal?
By Rae Murphy
A perception that bedevils the federal Conservative party and the governing Ontario provincial party is the notion that "conservative" and "right-wing" are interchangeable political terms....continued

Toronto Star, June 8, 2003
MacKay uncorks NAFTA genie
by Linda McQuaig
With cries of "betrayal" hounding new Conservative Party Leader Peter MacKay all last week, you'd think he had just agreed to review the party's stand against cannibalism.
Of course, MacKay is in trouble because he made a deal with rival David Orchard to review the party's position on free trade, to run candidates in all ridings and to make the environment a priority...continued

4

Toronto Star, June 8, 2003
Orchard looks like real Tory winner
by Graham Fraser

OTTAWA-When David Orchard was a teenager, he had an experience that marked him for life.

"U.S. Air Force jets came suddenly screaming out of the Saskatchewan sky, right over our barn," he writes in his book The Fight for Canada: Four Centuries of Resistance to American Expansionism.

"At barely treetop level they came so fast and so loud as to be from another planet, scattering the livestock in panic. For months they came without warning. Later I learned they were conducting exercises and were on their way to bomb farmers in Vietnam - farmers struggling to raise their crops and livestock just as we were."

That seed flowered into a persistent campaign that reached a peak last weekend, when Orchard used his power to anoint Peter MacKay as Tory leader...continued

Moncton Times and Transcript, June 06, 2003
N.B. Senator Brokers Tory Pact
Noel Kinsella helped orchestrate controversial deal which gave PC leadership to Peter MacKay.
By Campbell Morrison
OTTAWA. New Brunswick Progressive Conservative Senator Noel Kinsella brokered the controversial deal between Tory leadership candidates Peter MacKay and David Orchard that secured MacKay's victory.
He still has the folded piece of paper where his tiny handwritten notes marked the beginning of a four-part deal.
"It's just the job of an old Senator," he said in an interview in his office here yesterday, still looking disheveled after a weekend of deal-making...continued

Globe and Mail, 6 June, 2003
History is what happened this morning
by Rick Salutin
I am bemused by the journalistic apoplexy over the deal between Conservative Party leadership winner Peter MacKay and anti-free-trade maverick David Orchard at last weekend's convention. It's at a level up to which pundits rarely reach: "stupid . . . foolish . . . shortsighted . . . desperate" (Roy MacGregor); the new leader will "lose his own soul" (John Ibbitson); he "flushed" his principles down the toilet, along with his party's chances (Chantal Hébert); showing "cynicism and ineptitude" (Richard Gwyn). Everyone referred in some terms to a "Faustian bargain" or "deal with the devil" in the person of David Orchard. You won't have an easy time finding comparable shock and awe on topics such as war and terror...continued

Now Magazine, 5 June, 2003
A real party pooper:
Outsider David Orchard proves to be straw that breaks Alliance's back
by John Bacher
IF YOU SLEPT THROUGH THAT TELEVISED late-Saturday-night (May 31) moment during the federal Progressive Conservatives' leadership convention when red-green Tory David Orchard threw his support to Nova Scotia MP Peter MacKay -- for a price -- you missed the official demise of American political ideology in Canada. It might as well have been the War of 1812. Canadians are finally repelling the Yanks, or more exactly their Republican party expression, and the proof is that the new Tory leader is honour-bound to forgo unity talks with the U.S.-centric Alliance party....continued

Calgary Herald editorial, 4 June, 2003
Not-so-free-trade

But Orchard is right about this -- it's time to do a review of Canada's free trade agreements with the United States....continued

Thunder Bay Chronicle-Journal, 3 June, 2003
What's wrong with Orchard?

Some say the federal Tories are dead in the water now that Peter MacKay has won the leadership through a deal with party "maverick" David Orchard that had some delegates shouting "shame" and political opponents expressing glee.
But we're not at all sure this "gentleman's agreement" is a bad thing....continued

Ottawa Citizen, May 18, 2003
Wooing the new Tory kingmaker
Once dismissed as a tourist in the federal Progressive Conservative party, David Orchard has graduated to potential kingmaker as he heads into the leadership convention in Toronto May 31...continue
Read Elmer Laird's article on David, as taken from the January/February 2003 edition of the WHOLifE Journal...
David Orchard - an organic farmer offers hope for Canadians
Fifty-two-year-old David Orchard is a long time certified organic farmer, writer, author, environmentalist and social activist from Borden, Saskatchewan. He has been an organic farmer for 27 years...continue
Vancouver Sun, April 29, 2003
Orchard candidacy provokes Tory nastiness
by Barbara Yaffe
Something is going on in a Conservative riding association on Vancouver Island that doesn't pass the smell test. Predictably, that "something" is connected to David Orchard's leadership campaign...continue

The Vancouver Sun, April 19, 2003
Maverick has Tories all bent out of shape
by Barbara Yaffe
Progressive Conservatives have a long tradition of backstabbing one another and are proudly continuing the practice in advance of choosing a new leader. David Orchard, one of seven leadership candidates, has traditional Tories breaking out in hives because he's showing unexpectedly strong support in the run-up to voting day, June 1...continued

The Vancouver Courier, April 14, 2003
Orchard planting seeds for run at Tory leadership
by Geoff Olson
An organic farmer from Saskatchewan is hoping to upset the Tories' apple cart. David Orchard came in second in the 1998 race against Joe Clark, and was famously fobbed off by the jowly one as a "tourist" in the party. This January, Orchard announced his intent to take another crack at the top, at the PCs' June leadership convention.
...On the face of it, Orchard's quest sounds as quixotic as Ted Nugent running for the leadership of PETA, or Noam Chomsky signing up with the Navy SEALs. But sometimes truth comes riding into history on the back of error, as they say. Orchard is trying to steer the old Tory nag back on to its previous, well-worn path...full article

Halifax Sunday Herald, April 9, 2003
David Orchard and George W. Goliath
by Silver Donald Cameron
While the guns thunder in Iraq, small rancorous sounds perturb the air in Canada - a contest for control of the fringe assembly known as the Progressive Conservative Party of Canada, once the Alternative Governing Party. Oddly enough, the two facts are connected...continue

The Daily News, Halifax, March 31, 2003
Not your typical Tory
He's not my choice, but Orchard may just be what the party needs
by Sherri Aikenhead
While the rest of the world wrestles with the complexities of the war in Iraq, a group of seven Tories are wandering across the country trying to talk Canadians into joining the Progressive Conservative party...
The only threat to MacKay's crowning seems to be an intelligent and articulate organic farmer from Saskatchewan whose support continues to grow...full article

The Expositor, Brantford, March 29, 2003
Local Tories back Orchard
by Susan Gamble
...While most traditional Tories support Peter MacKay, the vote tipped overwhelmingly toward David Orchard, a Saskatchewan farmer who's relatively unknown...full article

The Montréal Gazette, Tuesday, March 25, 2003
A different kind of conservative
It's hard not to like David Orchard. Anyone who can drop into a Gazette editorial-board meeting and quote liberally from Edmund Burke, Benjamin Disraeli and John Diefenbaker while reminiscing about his days at a one-room school in rural Saskatchewan can't be all bad. Indeed, the soft-spoken Prairie wheat farmer is as amiable as a border collie and appears just about as threatening.
But he sure has a lot of his fellow Tories frightened...continue

Toronto Star, March 24, 2003
Tory candidates poles apart on call to arms
by Chantal Hébert
If the federal Tories had been in power last week, Canada might have joined the United States and Britain in the war on Iraq. But then again, it might not. That would have depended on the identity of their leader. As the seven men who vie to replace Joe Clark engaged in the second of the campaign's leadership debates in Montreal yesterday, it was quickly apparent that on the defining issue of the day the top contenders to lead the Progressive Conservative party are poles apart.
Frontrunner Peter MacKay would have answered the call to arms of the White House. As would Scott Brison, Jim Prentice and Craig Chandler, the latter cheering all the way.
But David Orchard - who is running a solid second in the race for delegates so far - would have kept Canada out of the fray...continue

New Brunswick Telegraph-Journal, March 19, 2003
Tory leadership candidate strikes a chord with Canadians
by Janice Harvey , "A Civil Society"
Eight years ago this month I started writing this column for this newspaper. Under the heading, 'A Civil Society,' I have tackled a wide range of controversial issues, challenging the status quo, mainstream thinking, and the exercise of power both locally and globally. I don't know whether to be surprised or not, but last week's column, "Only David Orchard can redeem the federal Conservative party" elicited by far the greatest number of reader responses of the 380 or so columns to which my e-mail address has been attached over the years.
Obviously, I struck a nerve, as has David Orchard...continue

Ottawa Sun, March 16, 2003
Orchard shakes up PCs
Meteoric rise of anti-free trader's campaign has true-blue Tories seeing red
by Kathleen Harris, Parliamentary Bureau
In the skeptical eyes of party faithful, he's the wolf in Tory clothing who just won't go away. David Orchard, the intellectual organic farmer from the Prairies, stubbornly insists he's a true Canadian and loyal Progressive Conservative. But party insiders claim his anti-free trade, pro-environment agenda puts him more in line with the NDP and Green party.
Orchard's populist, pro-Canadian message is catching on across the country -- and it's making true-blue Tories nervous. He's bagging an eclectic mix of supporters, from disaffected Liberals and anti-globalization protest-hippie types to celebrity icons and elite business leaders.
As Orchard's leadership campaign builds steam, money and big-name support, rank-and-file Tories are publicly diplomatic, but privately scrambling to stop it from snatching the prize... continue

HalifaxLive.com March 16, 2003
Does History Really Matter To Tories -
Or Is It Just A Game To Keep The Alliance Away?
by Clinton P. Desveaux
What I find most interesting is that the overwhelming majority of federal Progressive Conservatives are not aware of their own history or for whatever reasons have chosen to intentionally ignore their own history.
One of Saskatchewan's pioneer organic farmers, David Orchard has successfully farmed chemical-free wheat for over twenty-five years and he has chosen to throw his hat in the ring for the Progressive Conservative leadership for the second time. Many of you will recall that back in 1998 David Orchard finished second to former Prime Minister Joe Clark and was even able to force Joe Clark to a second ballot before eventually loosing the leadership to Clark.
If activists and party organizers wish to return the party to its historical agrarian roots of economic intervention then the answer is yes!... continue

The Globe and Mail, March 14, 2003
MacKay campaign launches stop-Orchard drive
by Brian Laghi and Campbell Clark
Ottawa — Tory MP Peter MacKay's leadership campaign has issued a call to arms to hundreds of senior Progressive Conservatives to stop left-leaning candidate David Orchard from winning the party's top job. A memo, sent by Senator Consiglio Di Nino, Mr. MacKay's campaign co-chairman, suggests that the campaigner against free trade is not a Tory's Tory. It warns Conservatives they could suffer the shock of seeing Mr. Orchard lead the party if they do not band together behind Mr. MacKay... continue

New Brunswick Telegraph Journal, March 12, 2003
Only Orchard can redeem the federal Conservative party
by Janice Harvey
It isn't surprising to read that the Tory establishment is more than a little nervous about David Orchard's leadership candidacy. While New Brunswick MP John Herron glibly dismisses Mr. Orchard as a party 'hitchhiker,' Mr. Orchard was runner-up to Joe Clark's successful bid last time around. That means his message of Canadian nationalism rings true with voters, and that means he could well move up the middle between the other PC leadership hopefuls to clinch the leadership...continue

Globe and Mail, March 11, 2003
Orchard a strong second in Tory contest
by Brian Laghi
OTTAWA -- Tory maverick David Orchard has startled his foes in the race to replace Joe Clark by finding himself within striking distance of front-runner Peter MacKay.
With the race just under way and 5 per cent of the delegates to the May convention elected, Tory officials said yesterday that Mr. Orchard, an activist against free trade and a controversial member of the party, is running close behind Mr. MacKay...continue

Vancouver Sun, Tuesday, March 4, 2003
Orchard adds colour to Tory leadership race
by Barbara Yaffe
Political leadership races are always a challenge for party unity. That's because those vying for the top prize often dislike their competitors but must pretend otherwise. And so, in the interests of party solidarity, contenders are often seen shaking one another's hands, laughing together and back slapping. In private they vent truer feelings...
In the ongoing Conservative party race to replace Joe Clark, however, dislike of one of the candidates has spilled out of the backrooms and into the public domain. An active party member wishing to remain nameless, on Feb. 28 filed a formal complaint with the Canada Customs and Revenue Agency against leadership aspirant David Orchard...full story

Nelson Daily News, March 4, 2003
Left, right and those lost in between might like Orchard
by Jocelyn Carver
"David Orchard is confusing a lot of journalists who cannot understand his brand of 'Crunchy Granola Conservatism.'"
Just when I thought Canadian politics could not possibly be more soporific, two anarchist friends of mine pinched me into a political awakening. You see, they have just become members of the Progressive Conservative Party of Canada. I rubbed my eyes, bleary as they are from endless news clips of blathering politicians. I could see my friends were not joking. And though my right ear has been deafened by thunderous calls for tax cuts and privatization, and my left ear suffers from too much shrill criticism, I was able to discern the reason for this very odd turn of events.
David Orchard, an organic farmer from Saskatchewan and a self-described sovereigntist, is once again running for the leadership of the Progressive Conservative Party of Canada...continue

Winnipeg Free Press, 21 February, 2003
Orchard Has PC Star Appeal
Frances Russell
His opponents in the race to replace Joe Clark as the leader of the federal Tories vacillate between pooh-poohing David Orchard as a crank and panicking at his possible popular appeal. But he has an illustrious political connection, star supporters his foes can only dream about and policies on Canada's future that polls indicate are more popular with Canadians than the positions of any of his adversaries...continue

New Brunswick Telegraph-Journal, 10 February, 2003
Grassroots hopeful is campaigning in town
David Orchard, who is taking a second run at the leadership of the Progressive Conservative Party, is speaking at two Saint John area high schools today and twice at UNB on Tuesday.
An organic grain farmer from Saskatchewan, he is also the author of a best selling book, The Fight for Canada: Four Centuries of Resistance to American Expansionism. A critic of the North American Free Trade Agreement, Mr. Orchard is not against trade but argues the current treaty sets the rules in favour of the Americans...continue

The Moncton Times and Transcript, 13 February, 2003
Tory Leadership Hopeful Would Revisit Free Trade Agreement
David Orchard says NAFTA has Canada in a 'trade straitjacket,' country would fare better under old rules of World Trade Organization
"We are a cold country," says federal Tory leadership hopeful David Orchard.
He'll get no argument from New Brunswickers, but the Saskatchewan farmer has good reason to state the obvious.
Orchard has visited the Maritimes on two previous high-profile occasions, first in 1988 as an outspoken, nation-crossing opponent of former Prime Minister Brian Mulroney's North American Free Trade Agreement. Ten years later, and Mulroney safely excised from the public consciousness, he was runner-up to Joe Clark the last time the Conservative party had a leadership race.
This time Orchard hopes to replace Clark and one day lead the Canadian government.
But to hear him talk, Maritimers might wish he was Prime Minister today....continue

Winnipeg Free Press, February 7, 2003
Tories tout exclusionary policy
Not what a major political party should be trying to do
by William Neville
Many years ago, as a youth with a somewhat unusual interest in politics, I unexpectedly became a delegate to the Progressive Conservative convention that ultimately chose John Diefenbaker as party leader. I then lived in Edmonton but, at almost the last minute, a delegate from the neighbouring rural constituency of Vegreville withdrew. With so few living, breathing Tories in Alberta in those days, local Conservatives were unable to find a replacement and I was recruited: a classic instance of sending a boy to do a man's job...continue

Western Producer, January 30, 2003
Orchard only farmer in PC leadership race
by Barry Wilson. Ottawa bureau
When Saskatchewan organic farmer and anti-free trade campaigner David Orchard joined the race for the Progressive Conservative party leadership last week, he made the farm economy something of a poster child for his platform.
The North American free trade deal is not working, he argued. The persistent and regularly unsuccessful American attacks on the Canadian Wheat Board are proof of that...continue

Regina Leader-Post, January 29, 2003
Orchard attracts unlikely support
by Barb Pacholik
A former head of the NDP youth wing in Saskatchewan and current president of the New Green Alliance is joining the federal Tory party after hearing a speech by leadership hopeful David Orchard. Victor Lau not only paid his $10 to take out a membership in the Conservative party, but left Tuesday's speech at the Regina Inn with a handful of forms to encourage his friends to do the same...continue

Vancouver Sun, Saturday, January 25, 2003
Maverick Orchard shakes up Tory race again
by Barbara Yaffe
There's a big black sheep in the little flock of candidates vying to lead the Conservative party. His name is David Orchard, and he stands out for several reasons.
First, he's definitely not your typical lawyer or politician fighting for the top prize. He's an organic wheat farmer from Saskatchewan, as keen to chat about the evils of genetically engineered foods as taxation or debt reduction.
Second, Mr. Orchard, 53, defines his conservatism differently than his fellow candidates...continue

The Edmonton Journal, c. January 24, 2003
Attack on free trade has broad appeal
by Jim Farrell
A candidate for the leadership of the federal Progressive Conservative party won the hearts of an eclectic mix of young NDP-types, disaffected Liberals and grey-haired Conservatives Monday evening by lambasting the North American Free Trade pact and other Brian Mulroney initiatives.
"My brand of conservatism puts the accent on 'conserve,' " David Orchard told an audience of 100 people at the University of Alberta's Tory Theatre Monday. "It's about improving the condition of the people and maintaining the country. It's not about dismantling institutions that have served Canadians for decades -- institutions like our health care system and the military"...continue

La presse, 23 January 2003
A Strange Creature
by Vincent Marissal
Forget for a moment all your political benchmarks and try to imagine a conservative who militates against the North-American Free Trade Agreement and for the Kyoto protocol; who wants a strong Canadian army, but who is opposed firmly to any intervention in Iraq; and who is ready to sacrifice the federal budget surpluses in order to invest massively in the public health network.
To divert you still a bit more, let's add that this strange political creature is bilingual and that he comes from deep within Saskatchewan, where he manages an organic farm. Lastly, this original character rejects any right-wing alliances and has dreams of revitalizing, alone, a party that many have already buried.
Here, ladies and gentlemen, is David Orchard...continue

The Ottawa Citizen, Wednesday, January 22, 2003
Can an opponent of free trade save the federal Conservatives?
by Susan Riley
Finally, and fortunately, the official remnants of the once-dominant Progressive Conservative party have a leadership candidate with a compelling idea that will differentiate the party from the Liberals. He also possesses dogged integrity, a rare tendency to answer questions directly and an ability to communicate his vision forcefully in English and passably in French...continue

National Post, Wednesday, January 22, 2003
Farmer and free-trade foe runs again
by Sheldon Alberts, Deputy Ottawa Bureau Chief
OTTAWA - David Orchard, the Saskatchewan organic farmer and anti-free trade activist, announced yesterday he will run for the Progressive Conservative party leadership amid charges from an opponent that he is a special-interest candidate who has no place in the party...continue

Take a look at the January 11, 2003 issue of The Globe and Mail, Jane Taber's "Ottawa Notebook," and you'll find the following in the middle of her column:
Finally a campaign?
"...Nova Scotia Tory MP Scott Brison is expected to declare his candidacy in the next two weeks. There are also reports that Peter MacKay, another Nova Scotia MP, will make his intentions known soon. But there is much fear within the party that David Orchard, the Saskatchewan farmer and anti-free-trader, could take the prize. Though he has not formally declared, Mr. Orchard is believed to be the only one signing up new members. In 1998, it was Mr. Orchard and Joe Clark on the final ballot."

WHOLifE Journal, January/February, 2003
David Orchard - an organic farmer offers hope for Canadians
2003 Progressive Conservative Party of Canada leadership candidate
by Elmer Laird
Fifty-two-year-old David Orchard is a long time certified organic farmer, writer, author, environmentalist and social activist from Borden, Saskatchewan. He has been an organic farmer for 27 years...continue

The Globe and Mail, January 3, 2003
Desperately seeking a Tory leader
by Jeffrey Simpson
Jeffrey Simpson reflects on the search for Tory leadership candidates as the May leadership convention approaches. He sees David Orchard as a serious contender who marches to a different drummer. Full article
The Globe received the following response to Jeffrey Simpson's article:
The Globe and Mail, January 6, 2003
What's a Conservative?
by Ray Kingma
...view the letter

The Cambridge Reporter, December 27, 2002, Guest column
Orchard proves green can go with Tory blue
by Matt Foster
I joined the federal PC party the other day. For those who have read my past articles this will come as somewhat of a shock. So why did I do this?
Well, I met David Orchard...continue

Victoria Times Colonist, December 13, 2002
Leadership Candidate for Tories Addresses Canadian Sovereignty
by Darren Stewart

David Orchard hopes his no-nonsense stance on Canadian sovereignty, which he will outline in Victoria next week, will capture the support of Progressive Conservative party members, and then the support of Canadian voters...continue

Victoria News Group, December 12, 2002
Orchard Out to Revive Tories
by Don Descoteau

For three straight federal elections, the Progressive Conservative party has been completely shut out by B.C. voters. David Orchard wants to change that...continue

Brantford Expositor, December 11, 2002
Canada first, says PC who wants Clark's job
by Richard Beales

He wants Canada to scrap its free trade agreements with the United States and Mexico. He's in favour the Kyoto accord, wants labelling on all genetically modified foods and is against private funding of political parties...continue


The Packet and Times (Orillia, Ontario), November 12, 2002
Hydro woes are talk of meeting
by Jim Purnell

Local News -- The sale of Ontario's power lines and power plants will be more shocking to consumers than the recent deregulation of the electricity market. That's the message delivered by passionate opponents of the privatization of hydro, led by free trade critic David Orchard...continue

The Toronto Globe and Mail (Toronto), October 26, 2002
The Lordless Tory forecast
by John Ibbitson

FREDERICTON -- Bernard Lord appeared positively serene. Having announced earlier in the week that he was closing, locking and bolting the door on running for the leadership of the federal Progressive Conservative Party...continue

The Leader-Post (Regina) and Saskatoon Star-Phoenix, August 7, 2002
Activist may run for leadership
by James Parker

Anti-free trade activist David Orchard may take a second run at the leadership of the federal Progressive Conservative Party, a turn of events which has some senior party members angry...continue

National Post, August 3, 2002
Federal Tory leadership Activist poised to win leadership, MP warns Hazards of ousting Clark
by Bill Curry

OTTAWA -- Tories eager to topple Joe Clark at this month's leadership review in Edmonton should be careful what they wish for, warns Scott Brison, a Tory MP and Clark supporter, who says anti-globalization advocate David Orchard could end up taking over the party if the leader is ousted...continue

Toronto Sun, Friday, August 2, 2002
Tory brass suspect coup at convention
By Stephanie Rubec, Ottawa Brueau

OTTAWA -- High-ranking Tories are accusing leader Joe Clark of getting into bed with a socialist nemesis they fear is orchestrating a coup at the party's national convention this month. Tories working to oust Clark fear David Orchard, an anti-free trade activist, is attempting to take over the Conservative party and transform it into a socialist one...continue

The Sun articles moved Joe Hueglin, former PC MP, PC party Ontario riding president and publisher of the Conservative/Communications/Net Daily Digest, to publish the following comment the same day, August 2, 2002...continue
Back

Top